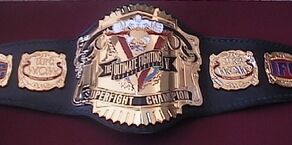 The
FBW Galaxy Championship
is a professional wrestling world heavyweight championship in
FBW
. It is the third world title established in FBW, having being introduced in late 2011 when the two former world titles were unifyed to create to Galaxy Championship. It is the Major championship of the company.
The championship is generally contested in professional wrestling matches, in which participants usually execute scripted finishes rather than contend in direct competition. The first champion was Kaiser, who won the championship in a fatal four way match including, Preston Scott, Roxus Cardello and TK Jones. Overall, there have been 5 different official champions, with Preston Scott as the current champion who is in his first reign.
Title History
Edit
Key
| | |
| --- | --- |
| Reign | The reign number for the specific set of wrestlers listed |
| # | Indicates what number the reign is |
| Event | The event promoted by the respective promotion in which the titles were won |
| N/A | The information is not available or is unknown |
| - | Used for vacated reigns so as not to count it as an offical reign |
| + | Indicates the current reign is changing daily |
As of April 26, 2012.
| # | Wrestler | Reign | Date | Days held | Location | Event | Notes |
| --- | --- | --- | --- | --- | --- | --- | --- |
| 1 | Kaiser | 1 | August 1, 2011 | 31 | Rome, Italy | FBW The Star Games (2011) | Defeated TK Jones, Roxus Cardello and Preston Scott |
| 2 | Vacent | - | September 1, 2011 | - | - | - | Title declared vacant when FBW goes undersss |
| 3 | Ricky Maine | 1 | January 29, 2012 | 28 | Sydney, Australia | FBW New Years War (2012) | Won the Equalizer Match for the vacant championship |
| 4 | Trip Johnson | 1 | Febuary 26, 2012 | 98 | Liberty City, New York | FBW Elimination Finale | Defeated Ricky Maine (c), TK Jones, Preston Scott, Paul Benzema and Jodah Kayne in an Elimination Chamber Match |
| 5 | Joey Tierney | 1 | June 3, 2012 | 56 | Miami, Florida | FBW Concussion | Won the title in a triple threat match also involving Preston Scott |
| 6 | Preston Scott | 1 | July 29, 2012 | 32+ | Azadi Stadium | FBW Star Games | Won the title in a five way ladder match featuring Tierney, Dillinger, Maddog and Chuck Jones |
Title StatsEdit
Most Reigns: Trip Johnson, Kaiser, Ricky Maine, Joey Tierney and Preston Scott (1 Reign)
First Champion: Kaiser
Current Champion: Preston Scott

Longest Reign: Trip Johnson (98 days)
Shortest Reign: Ricky Maine (28 days)
List of Combined Reigns
Edit
| Symbol | Meaning |
| --- | --- |
| * | Indicates the current champion |
| <1 | The reign is shorter than one day. |

As of April 26, 2012
| Rank | Wrestler | # Of Reigns | Combinded Days |
| --- | --- | --- | --- |
| 1 | Trip Johnson | 1 | 98 |
| 2 | Joey Tierney | 1 | 56 |
| 3 | Preston Scott* | 1 | 32+ |
| 4 | Kaiser | 1 | 31 |
| 5 | Ricky Maine | 1 | 28 |