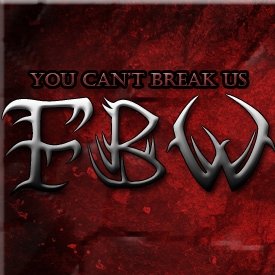 Future Bebo Wrestling
(shortened to FBW) is a non-promo online wrestling federation. The company started in August 2010, and had a brief hiatus in late 2011
FBW has only one wrestling show, FBW Unbreakable . It had a second show for a short period of time which was FBW Disclaimer but it was canceled by the network. Unbreakable has been the sole show since Disclaimer's cancelation and continues to provide the viewers with much entertainment and satasfactory. In addition to weekly episodes of Unbreakable, FBW also produces monthly pay-per-view events.
Wrestling Shows
Edit
Pay-Per-Views
Edit
Championships
Edit
Active
Former
Current RosterEdit
Former TalentEdit
Tag TeamsEdit
Current StaffEdit
FBW Board of Directors
FBW President(s)
FBW Head of Talent Relations
Ring Announcer
Interviewers
Referee(s)
Commentator(s)
Ad blocker interference detected!
Wikia is a free-to-use site that makes money from advertising. We have a modified experience for viewers using ad blockers

Wikia is not accessible if you've made further modifications. Remove the custom ad blocker rule(s) and the page will load as expected.