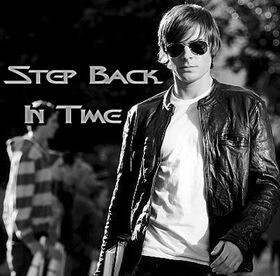 Step Back In Time is the debut album of Zack Richards. The album was released on August 14, 2011. The album was released by Nine Yard Records.
Album concept

Edit
The album featured mostly cover songs by people such as Michael Bublé, Johnny Cash, Drake Bell and many more.
However the album featured one original song by Zack Richards which included "Space and Time"
Space and Time
Track listing
Edit
It Takes Two (3:04) (Zac Efron cover from "Hairspray")
Ladies Choice (2:32) (Zac Efron cover from "Hairspray")
Save Tonight (4:03) (Eagle Eye Cherry cover from "Desireless")
Haven't Met You Yet (4:05) (Michel Bublé cover from "Crazy Love")
Walk The Line (2:44) (Johnny Cash cover from "The Legend of Johnny Cash")
Ride Forever (4:06) (Paul Gross cover)
Achy Breaky Heart (3:25) (Billy Ray Cyrus cover from "Some Gave All")
Big Shot (3:13) (Drake Bell cover from "A Reminder")
Dance With Me Tonight (3:22) (Olly Murs cover from "In Case You Didn't Know")
If I Could Turn Back The Hands Of Time (4:54) (R-Kelly cover from "The World's Greatest)
Spirit In The Sky (3:27) (Gareth Gates cover from "Go Your Own Way")
Rockin' All Over The World (3:32) (Status Quo cover from "Rockin' All Over The World) ft Status Quo
Last Night (3:41) (Good Charlotte cover from "Cardiology)
Space and Time (3:42)

Bonus Track: Space and Time
Ad blocker interference detected!
Wikia is a free-to-use site that makes money from advertising. We have a modified experience for viewers using ad blockers

Wikia is not accessible if you've made further modifications. Remove the custom ad blocker rule(s) and the page will load as expected.